Brought to you by Chris Ivins.*
Hi all, this is my first column for The Muse Marquee and it's great to be hosting the Poets Corner. This month features the winning entry in The Muse Marquee Poetry Contest written by Russel Chale. His entry "Friend or Fiend" combined the required words (love, hate, treasure, heart, until, ring, cup, taste) to produce a wonderful poem about a very interesting character: the Kea bird of New Zealand. Whether one looks at the Kea as friend or fiend, I think he sounds like a fascinating little fellow. Russel is a very clever poet. When one considers the word list, I think it may have lent itself to one of those "love" poems or similar, and it's grand to see something built from it which is unexpected, professionally written and a joy to read. Congratulations, Russel, on a very well-deserved win, and thank you for providing such an original and fresh piece for us to enjoy.
Poetry Contest Winner:
Friend or Fiend?
by Russel Chale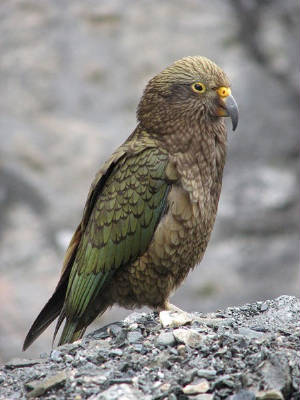 He's New Zealand's little treasure
Lives down south in rain and snow
But it's rarely mutual pleasure
If his tricks are put on show

The Kea's habitat these days
Is standing with a roadside view
At first you'll love his cheeky ways
Performing for a tourist crew

But true to form he's not alone
Relatives appear nearby
Fun at heart but trouble prone
Smart and bright, but never shy

He looks so cute and acts the clown
Strides the circus ring around
Until you notice with a frown
That the bird is mischief bound

Be warned he'll serve the cup of doom
Ripping rubber from your car
Stealing trinkets and make you fume
His behavior turns bizarre

He'll leave behind a bitter taste
You'll hate the mean Kea pranks
He's an expert at laying waste
Want a pet Kea? No thanks!
Russel Chale currently lives in the Byron Bay area of New South Wales, Australia. He enjoys writing poetry and flash fiction on FanStory.
(Photo credit: Markus Koljonen, 21 November 2006. New Zealand's mountain parrot, the Kea (Nestor notabilis en ), on some rubble on the Franz Josef Glacier. http://en.wikipedia.org/wiki/Kea)