Each archived PDF issue of The Muse Marquee will bring you columns to hone your writing, to offer you tips, along with helpful links...all for the low price of $2.99US ONLY!
These PDF archives are an excellent addition to your writing library to refer to whenever you want.
The Muse Marquee - Issue One
Here's a glimpse what Issue One has in store for you:
CONTENTS
HEARBEAT – EDITOR – ANN DURAND
Happily Ever After…Defining Romance
"While the stories of Cinderella or Sleeping Beauty may qualify as romantic fiction, their authors would have a tough time pitching their books to Harlequin or Silhouette. Likewise, Shakespeare would be hard-pressed to convince the editors at Mills & Boon that Romeo and Juliet was right for their list. And if these classics can't cut it in today's market, how can a writer new to the business ever expect to break into it? What does a writer of romance need to know these days? Just what is romantic fiction anyway, and how much of it is actually selling? "
MOTHER HEN'S BIN – EDITOR – LEA SCHIZAS
Editing
"Let's not mince words now. Editing has to be one of the hardest things to do. Not only from the 'editing' side but also from the point of view that now it means some of those precious words penned to paper need to be deleted. What a thought! What an attack! But, alas, a necessary step."
MUSELINGS – EDITOR – SUSAN STEPHENSON
A: Am I a Writer?
and
Interview with Robyn Opie
"Well, you're not a pineapple, are you? Or a pickled eel's foot? But how do you know you're a writer? According to WordNet, "writer" has two meanings: 'writes (books or stories or articles or the like) professionally (for pay)' and 'a person who is able to write and has written something'. The fact that you're currently reading this column encourages me to believe you're on a continuum somewhere between the two. You have written, and whether you've been published or not, you're interested in being published and paid. So…we've established we're writers. So… what?"
WORLDS APART – EDITOR – CHARLES MOSSOP
Setting Your Stories In Other Cultural Contexts
"You might say fiction is a pane, and you'd be right. A pane of glass, that is. It's a window through which readers are given glimpses into other worlds, and into the lives of other people. Fiction makes these worlds real and populates them with characters. Stories can be set anywhere, and thousands of them are set, and will continue to be set, in the here and now, in the world we know. But imagination is limitless, and writers are not confined to the present day, or to their own society."
UP FROM DOWN UNDER – EDITOR – LES STEPHENSON
To Comma or Not To Comma?
"You certainly open the proverbial 'can of worms' when you decide to spend time researching the use and abuse of the humble comma.
Let me tell you straight and direct from the outset. Avoid these little devils if you possibly can. Unfortunately, however, you soon learn, to your despair, of course, that commas, particularly, out of all the types of punctuation, barring none, slyly, insidiously, and covertly slither unwelcomed, deplored, and maligned into any sentence where your concentration wavers, even for the slightest, briefest, or merest moment."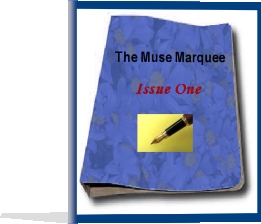 The Muse Marquee - Issue One is a 27 page archived PDF for your reading and learning pleasure. Don't delay. Get your copy right now for only $2.99US.
The Muse Marquee-Issue One

Archived PDF
Once payment is verified, your PDF will be delivered to your email box. Please include your name and email address within your Paypal payment.